NOISE MANAGEMENT
NOISE REDUCTION MEASURES
Generation of additional overnight noise is a major concern of the NYC DOT and adjacent communities.
Noise Sources can include:
Operation of pallet jacks on trailers and between truck and business
Engine idling
Truck and forklift back up alarms
Slamming doors
Liftgate operation
Delivery staff talking and shouting
The NYCDOT has identified several measures that can be adopted to reduce noise during off-hour deliveries. There are two main areas where noise can be mitigated:
Implementation of quiet delivery practices for both the drivers and receivers
Use of low noise delivery equipment
IMPLEMENTATION OF QUIET DELIVERY PRACTICES FOR BOTH THE TRANSPORTERS AND RECEIVERS
Noise is often generated by the operation of materials handling equipment and machinery such as pallet jacks, refrigeration units, and tailgates. The majority of equipment used for deliveries today does not have sufficient noise reduction components suitable for off-hour deliveries. While the NYC Noise Code does not directly address freight deliveries, Section 218 of the code provides general prohibitions on noise, regardless of the source, that must be adhered to (refer to the NYC noise code handbook). The code restricts the making of "unreasonable noise" during commercial activities or through the use of devices (i.e., truck back-up alarm) after 10 pm and before 7am. Due to stricter noise ordinances in Europe, some equipment manufacturers have developed equipment that meets noise requirements. Examples of some of that equipment can be seen in this video.
USE OF LOW NOISE DELIVERY EQUIPMENT
Before the right equipment solution can be identified, the main noise source associated with a delivery must be understood. Each delivery operation can be unique due to the different types of equipment involved.
Some noise sources, such as noise resulting from a pallet jack crossing a sidewalk, may be mitigated by simple and cheap methods such as a rubber mat placed on the sidewalk.
Where noise is produced from a particular piece of equipment, such as a refrigeration unit, tailgate or pallet jack, noise reduction measures include replacing older equipment for newer models, which may have better noise characteristics due to less equipment wear and tear. Other options include implementing equipment that has specific noise reduction measures, which are highlighted in the Quiet Delivery Depot video.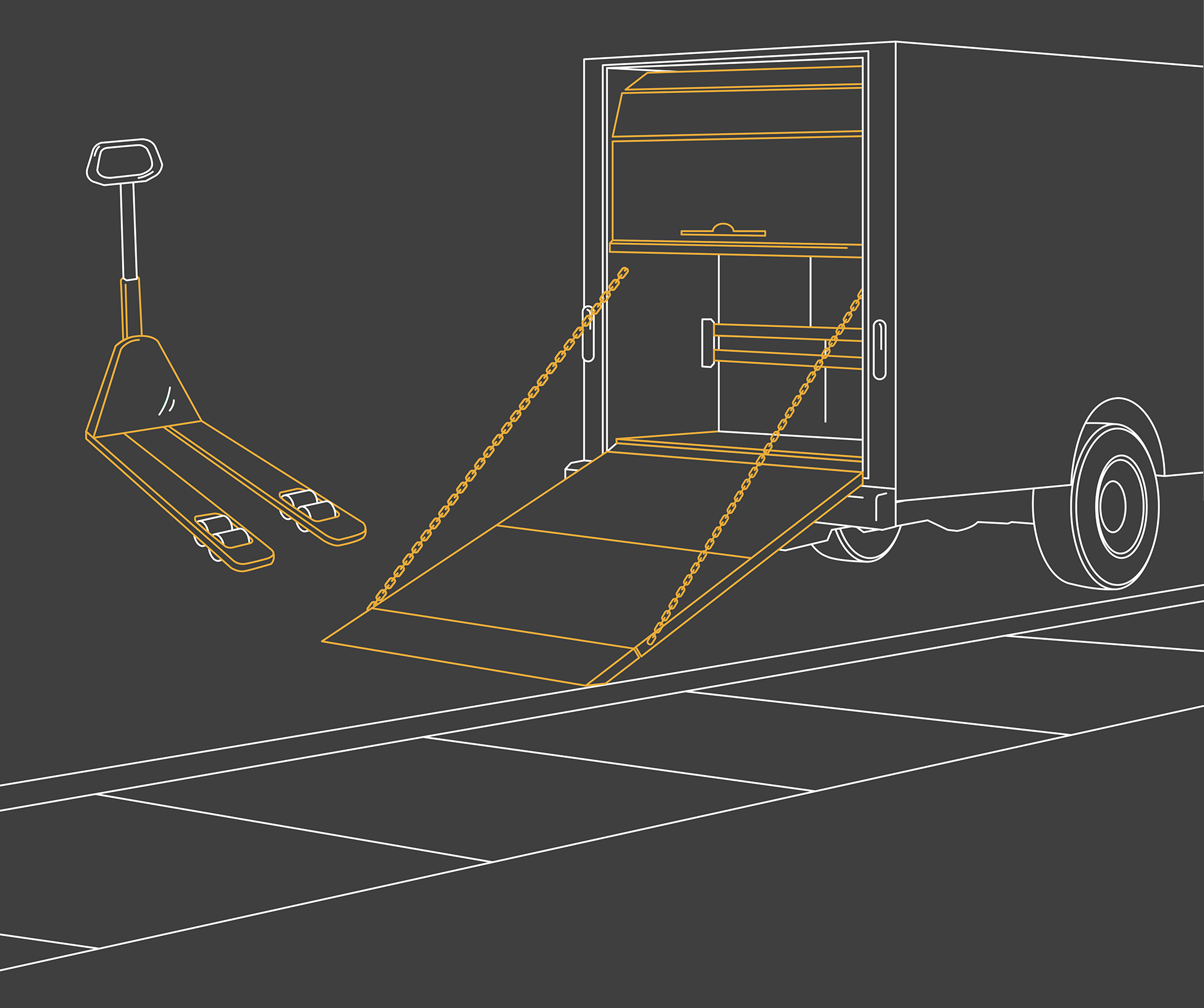 1
Low noise lift tailgate
2
Materials handling equipment
5
Street and sidewalk surface
TAKING NOISE OUT OF THE PROCESS
Some equipment has been specifically designed to reduce and eliminate noise from the delivery process. A key factor in the design of this equipment has been to remove the manual part of the process and have equipment undertake specific actions rather than a person. As shown in the Quiet Delivery Depot video, the roller shutter door has an electric motor closing the door, eliminating the slamming motion most often associated with a door being closed manually. This roller shutter door also has some important health and safety benefits. The tailgate demonstrated has hydraulically operated ramps, thereby reducing the human tendency to drop the steel plates onto sidewalks. Other systems such as electric and cryogenic refrigeration units using CO2 and nitrogen are also very quiet. Not only do they reduce noise, but they also produce fewer air pollutants than diesel refrigeration units.
THE TRANSPORTER
The transport company and truck driver plays an important role in managing noise during the delivery process (truck to the customer). Through building awareness and training, onsite delivery noise can be reduced. The difference in the low ambient noise at night compared to the noisier daytime hours can result in accentuated delivery noise. Awareness training should include the following simple reminders:
DO'S
Be considerate of surroundings, reduce speed, turn off the radio before leaving the truck, turn off noisy equipment (i.e. refrigerator), and avoid non-essential use of horn. 
Use materials handling equipment quietly such as tailgates
Keep vehicles well maintained so as not to create additional noise when using, and upgrade to equipment with noise reducing features.
DONT'S
Do not idle the truck at delivery locations
Do not slam truck doors
Do not talk loudly or shout at other staff
THE RECEIVER
The goods recipient also has a role in reducing delivery noise. Many of the actions are similar to those associated with the truck driver and include:
Designate a point person responsible for managing the reception of deliveries
Proactively maintain or replace facility (i.e. doors)
Encourage drivers to park at the curb and avoid double parking which can cause congestion and car horn noise
Where possible, encourage deliveries to take place at the loading dock or at curb closest to the delivery area to minimize area impacted by noise.
Maintain a log/diary of deliveries during off-hours to note noise disturbances that need to be addressed.